Ready to take the important steps towards sustainable living for your family?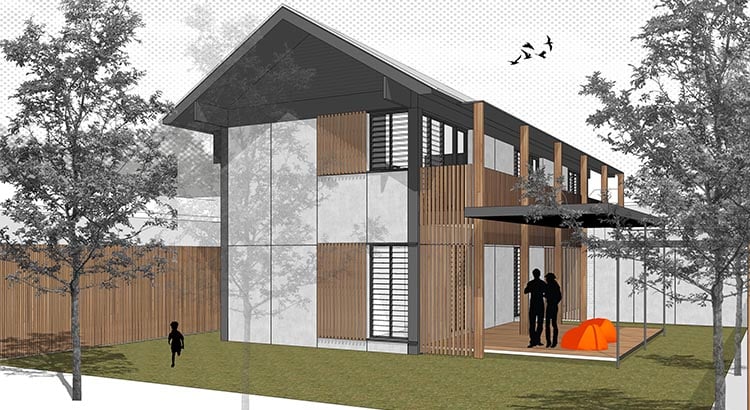 Your Passivhaus provide off-site construction services for energy-efficient homes. Our capable team cater for sustainable building projects, large and small.
Our customised construction services and passive home certification services are tailored to your building project needs. We help with all stages of the home building process including support with development proposals, design, cost planning, project management and construction delivery.
Got questions?
Off-site construction services for residential and commercial projects
Passive House Planning Packages
We listen to you and understand your project needs. For a flat fee, we provide a comprehensive site and project assessment tailored to your individual construction requirements. On location or remote consultations are available.
New Homes
Build a sustainable home to international Passivhaus standards. We provide off-site construction services, delivering premium European design and technology, customised to suit your family's needs and preferences.
Knock-down and Re-builds
Construct an energy-efficient home on your existing block. Achieve a fast and efficient re-build using premium European off-site construction services. Avoid costly time delays and lifestyle disruptions.
High Performance Windows
We supply and install double or triple glazed UPVC windows to achieve energy-efficient comfort in your home. Reduce noise pollution, prevent drafts, and enjoy ongoing cost savings.
Heat Recovery Ventilation (HRV) Systems - Supply and Installation
We supply and install HRV systems to homes and business premises. Live and work in comfortable, climate-controlled spaces which enhance your lifestyle and well-being.
Heat Recovery Ventilation (HRV) Systems - Balancing
Balance the fresh air supply to your home for optimal performance. Enjoy comfortable, climate-controlled living spaces, fine-tuned to meet your household needs.
Customised Passivhaus Construction Services
We offer passive house project management services tailored to suit your needs. You receive as much or as little support as you require to create a fully certified passive house. We bring together an experienced team of construction professionals or liaise with your preferred contractors to build your home.
Your Passivhaus manages your project from initial planning to building lock-up.
Initial Consultation
We discuss your preliminary project plans
Architecture
You work with one of our experienced passive house architects or select your own preferred designer
Passive House Planning Package
You receive a comprehensive review of your site, home design and project planning options for building a certified passive home
Engineering
We use a structural engineer to comply with all the necessary Australian building regulations
3D Modelling
Our European off-site construction partners convert your home plans into a digital 3D walk-through model for your approval
Technical Drawings
Our European off-site construction partners produce full factory production drawings for your sign off
Off-site Construction
Our European off-site construction partners manufacture all required structural components to exacting standards
Delivery
We arrange prompt shipping to your site (typically, takes 3 months from design confirmation)
On-site Assembly
Your choice of our builder or yours to assemble all structural components and achieve full building lock-up (typically, takes 2-3 working days)
Passive House Testing Services
Your Passivhaus do rigorous Blower Door Testing during the building process to make sure your home is air-tight and meets stringent international passive house accreditation standards
Your new home is complete in record time. It's now ready for the finishing touches – exterior cladding of your choice and a personalised interior fit out and landscaping as desired.
Energy-efficient building services. For projects large and small.
Kind words from our happy clients
Your PassivHaus project managed the retrofit of new UPVC windows in my 1960s house. They made the process easy and were happy to fit in with my schedule and changes I made to the project specs. Thanks to their wise advice I was able to choose the most cost-effective options for the job. A happy customer!
Douglas and the team were great with my recent roofing job. PassivHaus came highly recommended and did not disappoint. They took great care with the job and communicated throughout. Thanks, Your PassivHaus!
Ready to build a smart home for a bright future?
You're in the best of hands with our experienced passive house project team.