PROUDFOOT RISE
Passivhaus Project, Canberra Australia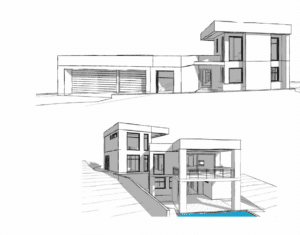 PASSIVHAUS FOUNDATIONS, FUTURE LIVING
CASE STUDY: PHASE 1
Early Steps in the Construction Process
PROJECT PARTNERS
Passivhaus Consultant: Douglas Lumsden, Your Passivhaus
Construction: Cercol Construction Services
Off-site Panel Construction: Net Zero + and Michael Drage Company
Design: Reimagined Habitat
Homeowners: Tony & Louie Pochi
THE PROJECT
Proudfoot Rise is an architecturally designed home built with international Passivhaus certification.
An energy-efficient 9-star residential project, Proudfoot Rise delivers a high-performance contemporary home showcasing spacious multi-zoned living, open plan design and the very best of Passivhaus construction. The residence is built to meet exacting international standards as well as achieving full compliance with all BCA regulations and Australian standards. Proudfoot Rise offers the ultimate in family comfort with 5 bedrooms, 3 bathrooms and stylish interiors built with energy efficiency and healthful living front of mind.
PASSIVHAUS FEATURES
Triple-glazed, high-performance windows and doors
World-class Stico insulation
Comfortable draft-free interiors using unique thermal wrapping
No thermal bridge (minimising moisture, mould growth, heat and cooling loss)
Fresh, purified air supply delivered by Brink Heat Recovery Ventilation System
International quality guarantee (certified by Passivhaus Institute, Germany)
A WORD FROM THE BUILDER
This unique project is a partnership bringing together Passivhaus knowledge and expertise with quality Australian construction. Proudfoot Rise owners, Louie and Tony Pochi are building their own home in consultation with Passivhaus specialist, Douglas Lumsden.
Cercol Construction Services are Licensed A Class Builders in both NSW and the ACT with extensive experience in the residential and commercial sectors. They are keen to demonstrate passive house construction can move beyond a simple 'barn-like' structure to an aesthetically pleasing home with architectural finesse.
For Cercol Construction Services and their client, Proudfoot Rise is an important test case demonstrating passive house principles can enhance contemporary architectural design. They share a commitment to future-forward construction, introducing established European building standards to the Australian environment. For the owners, a healthy home environment, long-term energy efficiencies and advanced building technologies are central to this project's success.
PASSIVE HOUSE CONSTRUCTION: STAGE 1
Early Steps in the Construction Process
Finalising architectural plans
Navigating approvals process
Passivhaus certification checks
Initial site work
Comprehensive slab preparation in readiness for 'assembly week'
Project Video Updates
View and video from the site on 6 Nov 2023
Traditional vs Passivhaus Approach
The Passivhaus approach is very much a collaboration between industry experts – specialists in design, construction, Passivhaus certification and off-site manufacturing. This early stage in the project has brought together smart minds, technical knowledge, and different perspectives to achieve the best outcomes for the home.
Challenge
Passivhaus construction offers an international guarantee of quality for your build. Passivhaus certification requires detailed documentation and thorough project preparation. Prior to assembly, the team are involved with slab preparation and planning for fixtures and fittings to ensure everything is exactly where it needs to be for your home. One of the greatest challenges is completing most of the planning in advance.
Solution
The builder, architect and Passivhaus consultant have brought together considerable expertise to finalise the building layout and preparation for the fit out prior to wall assembly. They have worked together to achieve a fine balance between the Passivhaus certification requirements and the owner's design sensibilities. This initial phase involves intensive planning, satisfying the approvals process and providing opportunities for the best design solutions and material selection.
Benefits
In cases like these, a thorough initial planning process means greater certainty and positive outcomes for the homeowner, and project management efficiencies for the building team. All parties have a clear image of the final plans before entering the main assembly stage. This ensures there is less chance of unforeseen additional costs and clients' personal requirements receive the planning and attention they require in advance.
NEXT STEPS IN THE PROCESS
Wall assembly including window and door installation
Plumbing and electrical set-out
Creating a weather-tight seal throughout
Undertaking a Blower Door test to ensure the home meets 0.6 ACH (Air Changes per Hour)
Progress report and site visits
We were lucky enough to show Senator David Pocock over the site and introduce him to the Passivhaus Principles at play in this build on Friday 3 Nov 2023.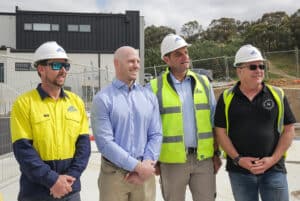 Interested in building an energy efficient passive house for your family?